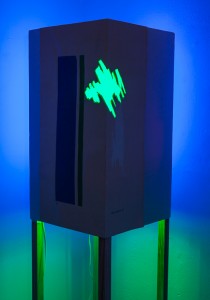 Making light sculptures and light environments, working with colored light, is alchemical to me, magical, ephemeral, meditative.
In one series, I recycle thrift store artwork into 21st century lighting abstractions, much like sampling tracks from old vinyl records. These reinvented art works invite the viewer to consider the nature of art— perception, appropriation, the ownership of art, its transitory nature and its individual history – when artworks are discarded and no longer meaningful or popular.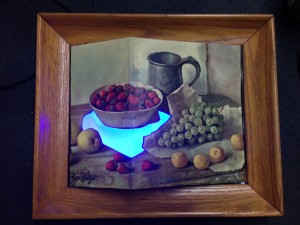 I am interested in manipulating disposable "stuff," everyday objects, the detritus of our culture, reinventing and transforming them into art objects that invite contemplation and imagined narratives.
In another series I also create three-dimensional constructions that are made of ready-mades, discarded cardboard, and wood waste.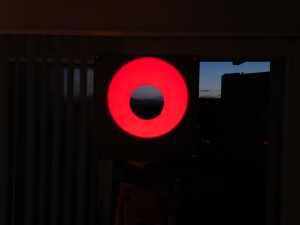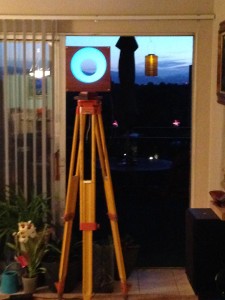 In general, I explore and apply the aesthetic discoveries and theories of American master artist James Turrell with innovative, sometimes funhouse twists on his ideas, at times turning them upside down with touches of humor in order to make this sometimes esoteric work more accessible, smaller in scale and common place. However, at the same time, when I work with the diaphanous and alchemical nature of light, the works take on a deeper visual experience and meaning, as they hint at the horizon-less and mysterious interior light of the landscape of the mind, of consciousness, awake, asleep and in between.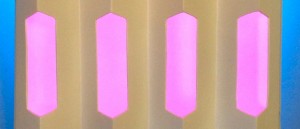 My work transforming and reinventing discarded art and objects also serves as a metaphor for my personal reinvention as a visual artist. My MFA is in creative writing. I shifted to making visual art when I found myself more and more interested in visual landscape and working with it directly. In my short stories and plays, I focused a lot on scenes, vivid and evocative images, metaphors and setting (in which stories happened) and I want to create a more visceral experience instead of describing it.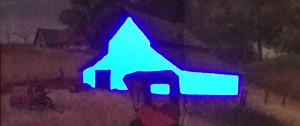 Ultimately, I consider myself a landscape artist in the largest sense of the word, working with volumes of space, engaging the viewer as they either enter interior landscapes, or create landscapes of their own, with opportunities to experience Turrell calls "celestial vaulting," in a more mobile way than experiencing it in Turrell's extinct volcano masterwork in Arizona, with my viewing devices. "Celestial vaulting," refers to the experience of shifting from flat, two-dimensional perception of landscape or sky through a lighted viewing device or construction, to a momentary, super 3-d experience of the landscape when looking away form the viewer and onto the landscape "normally" yet now altered, simply by the way our eyes perceive distance through color.